The Story of Video Games Movie
Answer
these questions
 while watching the following video clips. (
Note:
you can make a copy of the questions to keep in your own Google Docs folder by clicking
File
, then
Make a Copy
in the Docs menu)
Idea Spark Videos
(watch these first)
ASSIGNMENT
Choose your a home video game console that interests you.
Create an online presentation (something that you can embed in your website) describing a historical game console system. Describe how it has evolved from the original version to the current version, and any other interesting facts you think are worth describing.
Slides should contain a picture of the machine, a description of the graphics and CPU power, and some screen shots of some important games. A brief video clips (1 min or less) to show game play would also be nice.
Focus on describing how the machine has evolved and the lasting effect the machine has had on current games.
If the console was not a success, describe the factors that prevented this success.

For PS4, XBox, and Wii - please take time to describe the invention of movement controllers (Move, Kinnect, Wii, etc) and how movement control has revolutionized game-play.
Consider questions like:
How did the Wii go from being the top selling system to just a memory in such a short time? Why wasn't Nintendo able to capitalize and keep their momentum? What types of online frameworks are now needed to make a console a success? 
How has the sales model for games changed in recent years with all the new types of additional expansion packs and similar add-on expenses.
What will the next 5-10 years of gaming look like? 
You should aim for 7-10 slides.
Suggested presentation platforms: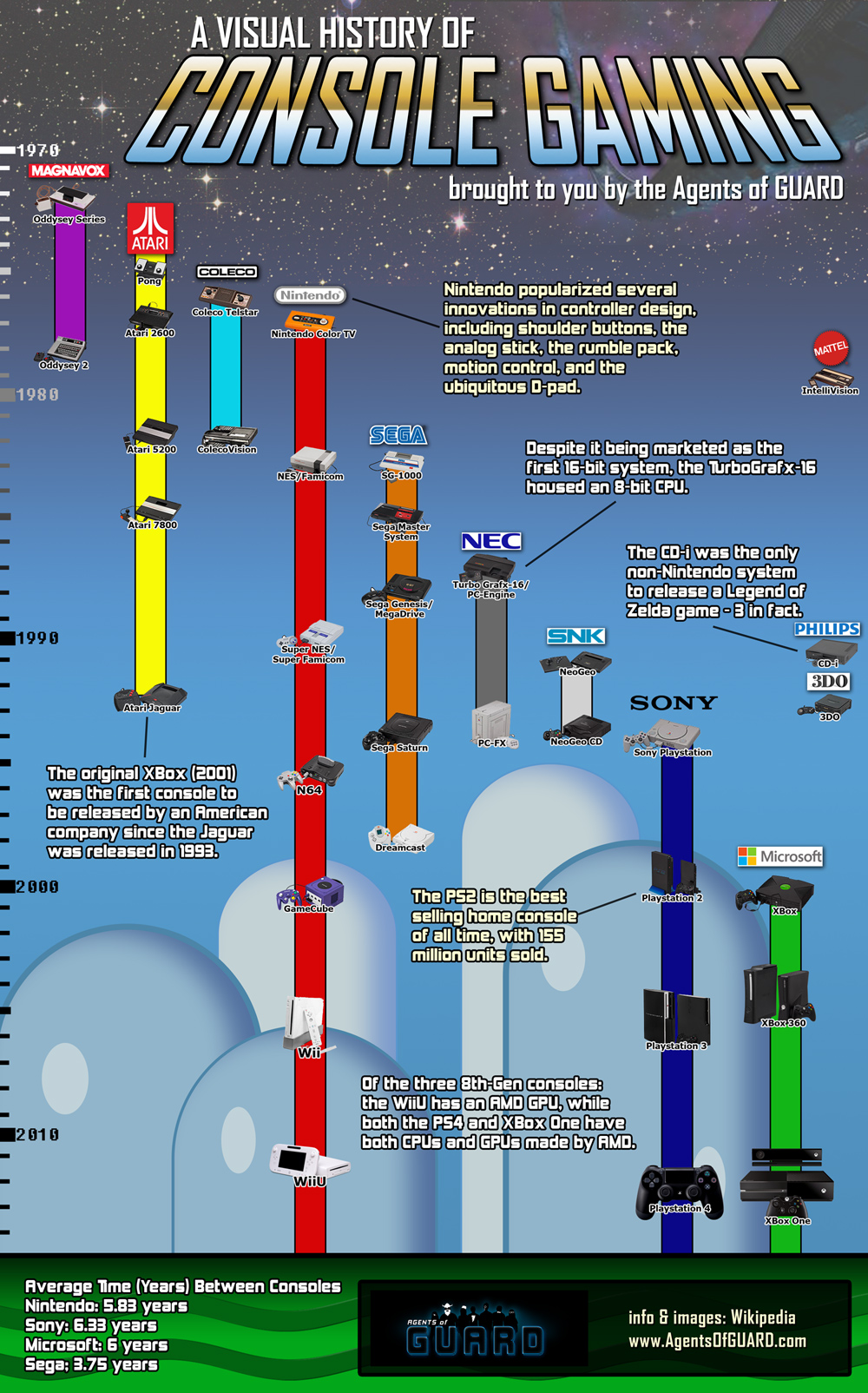 Some suggested unique consoles of interest:
Sega Saturn

Atari Jaguar

3DO

Neo Geo

Sega CD

Nintendo Famicon

Colecovision

Intellivision

Sega Game Gear

Odyssey 200

Turbo Grafx 16


Finished work should be submitted to your online portfolio
---
Extension Viewing (watch one part each day)
Part 1 (8mins)



Part 2 (8 mins)

Part 3 (9 mins)